Since the start of the social media boom in the early 2000s, the diversification of social media platforms have influenced a rapid change in the business model for many news organisations, forcing newsrooms to adopt and adapt to newer technologies and how to deliver news products more efficiently.
The Covid-19 pandemic is both a boon and bane for many news organisations. The advent of the pandemic pushes journalists and editors to adapt to a new environment and ways of news gathering as well as impacting traditional news legacy organisations dependent on print subscriptions.
Since March 2020, Malaysia has been put in a nationwide lockdown for three times in the effort to curb the spread of the virus. Major industry sectors were affected due to the economic shutdown and that has exacerbated the dire situation faced by the media industry.
The change of government via the infamous Sheraton Move in March 2020, saw the regression of press freedom in the country and the use of repressive laws to curtail the right to information and the right of information for the media professionals. In August 2021, the former prime minister Muhyiddin Yassin lost the confidence of Parliament, allowing Umno's Ismail Sabri Yaakob to become the 9th Prime Minister of Malaysia.
Over the past year as well, although Malaysians are spending more time indoors and working from home, journalists and editors are finding it difficult to keep up with the needs to gather and clarify the right information and access to press conferences and official government events are limited.
Leslie Lau, executive editor of MalayMail Online said that their perspective of the convergence and divergence of various platforms for news organisations is how to convert those into actual traffic to your site, from a business perspective because of advertising.
"I think what the whole pandemic has done because the whole world was effectively working from home, I think it accelerated this step towards where we kind of over rely on social media as means of news gathering. News as you know now, media companies are no longer the gatekeeper of news.
"Politicians and newsmakers obviously use Facebook, Twitter, TikTok or Instagram for their points of view, and I think the media companies find it very challenging. I do personally find it very challenging to constantly monitor that information flow that is coming from everywhere on social media," he added.
Emerging new social media platforms
The year 2020 and 2021 saw the return of some of the household platforms like Twitter but also new players like TikTok and Clubhouse. Many, if not nearly all major news organisations are now on TikTok to reach out to younger audiences to funnel the traffic to their websites and brand presence.
AlthoughFacebook still ranks the top in the country with more than 24 million users while Instagram at 13.5 million users, TikTok is one of the fastest growing social media platforms and it has more than four million users in Malaysia currently.
Karangkraf Media group chairman Hussamuddin Yaacub believes that their media outlet Sinar Harian is on the right path to drive for change. Although major news outlets and television channels try to carry news from various categories, Hussamuddin said that Sinar takes serious news but presents it in a TikTok way or in other words, a lighter way.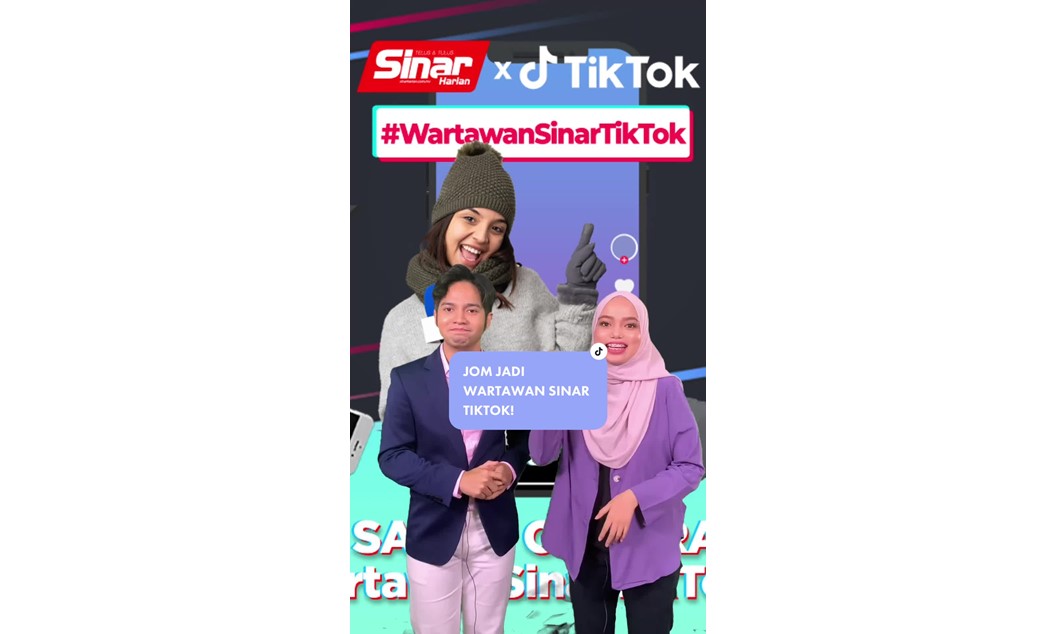 "We present news in TikTok and we get young people and interns to write TikTok news. In Sinar, we will always give opportunities to young people. That is why you see, when we went live at the national palace, we put on a young voice. We want to give the rookies new opportunities.
"We are slowly going into the young market, hence, we created the "Anak Muda Yang Baru Nak Up" (new emerging young leaders). The young people will not buy the print, it is usually the old people who will still buy. If you see, the digital numbers are still growing," he quipped.
Setting clear objectives to suit the changing trends, diversification of content
It is very common for newsrooms to jump straight into the bandwagon with new emerging platforms but to Zurairi AR, who is the news editor with the MalayMail Online opined that many newsrooms are still reacting like a knee-jerk without actually thinking it through whether the involvement in those platforms will actually gel with the whole editorial strategy, resource or manpower.
He pointed out that some news outlets do not consider what the audience actually wants. While some publishers may benefit from it, he also said that publishers may end up spending more time and resources on those platforms but ultimately having no objectives.
"It tends to be whatever that they are doing on these new platforms seem to be disjointed and it does not feed back to the main newsroom, for example, a proper strategy would be to use it like a funnel.
"There is a concerted strategy to make it a funnel. Make all these social media posts as general and effective in order to funnel people into some sort of membership and ultimately subscription but I do not see much of that strategy being employed by any of the news outlets," Zurairi said.
Malaysian consumers are slowly moving into two or more ways of consuming news, one of which is like a tendency to move into long form and analytical and also less frequent publications.
The success of a periodical print like Svara is unprecedented because of the gap between the need of the consumers and newsroom agenda. Due to the fast paced nature of the news, sometimes consumers prefer more analytical stories to make sense of what is happening.
Zurairi predicts that in the next 5 years, the emergence of more niched content like CodeBlue focusing on health related stories, sites like Periuk.my are just doing a very specific kind of food reporting.
"People are trying to hold on to their values and branding. Branding is your value and I think the way forward for news in the next five years would be publications that hold dearly to their value and not try to pander to everyone," he exclaimed.
Watered down journalism, dilution of quality
Prior to the Covid-19 pandemic, Tamil Nesan ceased their operations entirely, while 122 year old MalayMail shut down its print operations in 2018 to go fully online. One of the earliest casualty of media businesses shutting down was Malaysia's top magazine publisher Blu Inc. Media, best known for Cleo, Female, Her World, Harper's Bazaar, Jelita, and Marie Claire magazines.
Meanwhile China Press and Sin Chew Daily temporarily halted the print edition of its evening edition in April 2020. This year on 17 April 2021, another local Chinese newspaper Oriental Daily ceased its print operations entirely to go digital, cutting at least 60 of the staff members.
Media giant groups like Media Prima and Star Media Group have also issued retrenchment notices to 300 and 100 employees respectively. Currently, Media Prima is the largest media conglomerate group comprising New Straits Times Press, Utusan Malaysia, Stesen Televisyen Malaysia Berhad which owns free-to-air television channels like TV3 as well as various digital websites under Rev Asia.
At the same time where media companies are converging under bigger media groups with new owners and investments, there has been an uptick of the emergence of new players with the establishment of several digital news portals.
Sinar Harian and Utusan Malaysia have since started an online subscription model offering freemium access while The Star adopted a full subscription model, joining the likes of Malaysiakini and The Malaysian Insight.
The key trends in the change of news consumption behaviour include readiness of consumers to pay for subscriptions but at the same time, facing an uphill challenge in competing with new video streaming players like Netflix, HBO and Disney+ joining the market in 2021.
The shrinking median wage of Malaysian households from 10-15 percent according to the Department of Statistics Malaysia has also contributed to the decision of consumers to balance the number of subscriptions they take between news and entertainment.
While more Malaysians are keen to be updated with the latest news, there is still a grey area on whether Malaysians will pay for subscriptions for news digitally. According to the Reuters Institute for the Study of Journalism report in 2021, only 16 percent of Malaysians are willing to pay for news out of 33 million people in the population.
Managing editor of Malaysiakini, Ng Ling Fong said that their readers are still very much loyal to the news portal and saw a jump of readership during major events like the political dramas.
"New websites come and go because of politics. It depends on the needs of the political masters and funders behind it. The websites can be set up easily and they can go easily as well. When their paymaster needs them, they will be around. Otherwise they will be gone. The most important pillar for an independent media is to have independent funding," he said.
Husammuddin welcomed new players in the industry and this will also allow news consumers to start comparing between new media organisations and the ones with a track record.
"This is the time you should really expand. You should go all the way, even if there are competitors because I know they are not there for the marathon, they come in just to "kacau market" (disrupt the media market) or to test market, because entry level is very cheap.
"When I first started Sinar Harian, I raised 80 million ringgits to fund the newspaper. Now, to start a digital news website, two or three people only. The most important thing, we must maintain our credibility. People know that Sinar Harian is owned privately by a Malaysian who is not political. In the long run, it is also better for us. That means people will stick to the brands they know, just like Milo. In the long run, we are here to stay," he explained.
As for Zurairi, he does not see the new players contributing back into the industry in the sense that having more news outlets that are shallow in resources, strategies and objectives, for short term for political reasonings.
He also raised questions about their sustainability and doubted that they are even making money but at the same time offering low pay, not contributing towards training of the journalists that they are taking that would eventually become not good enough to move up in the industry.
"To give an example like Malaysiakini, everyone knows if you're an alumni of Malaysiakini, there is something. You can work with that. Talk about someone who is an alumni of Malaysiapost or Wacana, you don't feel like that someone is trained to do something, it feels like when someone joins, you have to retrain them back with basic journalism.
"Basically, they are just watering down the industry and they will accept reporters because they are looking for jobs but at the same time, the reason why some of those reporters did not get jobs in the first place is because their standards are not up to par. Where do we go from here?" Zurairi asked.
He also pointed out that it is difficult for local journalists to go regional or even international wires because of the limited number of spots available.
"All these talented people, they can't move up, the pay is low and then you end up with talented people leaving the industry," he lamented.