IT traversed the turns of two centuries. It reported on the sinking of the Titanic, witnessed the Spanish Flu pandemic, survived two world wars and the Great Depression, saw the rise and fall of the Communist Bloc, and entered into the digital revolution of the 21st century.
The Malay Mail (MM) was the first local English daily published during the colonial Federated Malay States. On December 14, 1896, it was published as a free lunchtime paper with 100,000 copies circulated around the Klang Valley. After 122 years, it became the first English newspaper that ceased print publication. After December 1, 2018, it exists solely as an online news portal.
MM was a newspaper under Malaysia's largest media house New Straits Times Press (NSTP) Berhad along side New Straits Times, Berita Harian and Harian Metro. It had its heyday from the 1970s to 1990s, finding its niche as an English afternoon tabloid distributed in the Klang Valley. With the tagline: The Paper That Cares, it carried local community news as well as exclusives that made many headlines. It has a strong presence in classified ads, as well as delivering the latest sports and international news.
By 1997, the Malay Mail was the NSTP's single most profitable unit through its grip on classifieds. (1) But following the Asian financial crisis and the emergence of a formidable new kid on the block The Star that offered great incentives to advertisers, The Star soon overtook MM leading position in Classified advertisements.
Since the advent of the 21st century, MM has undergone several revamps and relaunches under various editors and ownerships. Like all newspapers, it had an online version since 2013 that had quickly superseded the poorly performing print paper. But while the current owner – Malay Mail Sdn Bhd under Ancom Bhd, was responsible for the stop print decision three years ago, the turning point that led to the final demise of MM could be traced back to 15 years ago.
Glorious Days of The Paper That Cares
MM enjoyed its glorious days as the voice of the community. The paper was fondly remembered by many editors and journalists who were part of it.
Former MM editor K.C.Boey recalls that MM was blessed to have the leadership of NST group-editor-in-chief, Tan Sri Datuk Noordin Sopiee in the early 1989s. It was the editorial team under his leadership that coined the tagline The Paper That Cares.
"The Paper That Cares was living out its mission but it turned out to be far from mere rhetoric," says Boey who helmed the editorial desk from 1986-1989 and is now based in Melbourne, Australia. "The adoption of the slogan drew into a cohesive whole previous ad hoc features and freshly minted ideas. This demanded discipline to plan each feature."
Another unique feature in MM was the The Malay Mail HOTLINE, a one-stop telephone service that helped readers bring to the attention of local authorities failure of their services; or served as a conduit to public action in the interest of public good. He says HOTLINE became the genesis to the investigative journalism genre under the banner of MAIL INQUIRY and MAIL ANALYSIS,
Naturally, Boey is sentimental that MM is no longer in print. "You can't hold back progress, which is what I see technology and the new media to be. In MM's parlance, the new media is the super highway to the trusty kapcai of our vendor of old, for which our off-stone time was ever creeping forward to making a mockery to our claim to be an afternoon daily. Malay Mail heyday could still find a niche, with the staple of its time."
Equally sentimental of the Malay Mail of old is former MM Sports Editor Tony Mariadass, who had worked with the newspaper for 29 years before leaving the paper in 2006.
A true MM veteran who had witnessed three decades of the ups and downs of the paper, Mariadass says the online Malay Mail today has lost the concept and characters of the original paper, but understands the restrictions for online publications such as length and timing.
"MM was different from the other papers. It contains mostly human interest stories. It dared to court controversies and broke many exposés and breakthrough stories," he says.
"MM thrived as an afternoon paper for the Klang Valley.There were enough morning papers. We should have concentrated on our niche and not shared the pie with other morning papers," he added.
Mariadass took the company's voluntary separation scheme (VSS) in April 2006 because he couldn't agree with the new direction of the paper. Some years later, he was asked to rejoin MM under a new ownership and he was first consultant sports editor, then specialist writer and columnist with the paper until 2017.
The Downfall of a Varsity MM
Towards the turn of the millennium, MM's circulation had slid from its peak of over 60,000 to just half the figures. Advertising revenue has kept in step, plummeting to RM10 million annually from its peak of RM70 million in 1997. The newspaper had since been reporting losses.
Former MM Editor and well known blogger Datuk Ahiruddin Attan witnessed what happened to MM in the mid 2000s that he alluded to as the eventual cause of MM's demise. Better known as Rocky, he was appointed as Acting Editor of MM in 2001 while he was still Editor of the defunct Business Times.
"At that time, sales were plummeting to between 23,000 to 25,000. I took on the challenge with the aim to bring back MM to its once glorious days," says Rocky who was instrumental in opening MM branches in Penang, Johor Baru, Ipoh and Melaka to publish the paper in those states. He also sent some senior journalists to lead the branches' editorial teams. MM was morning paper in those states but a late morning/lunchtime paper in the Klang Valley.
Rocky says between 2004 and 2006, Malay Mail was the only major newspaper in Malaysia that was enjoying growth in terms of circulation numbers. In Penang, MM had overtaken NST in sales. He added that by 2005, MM's daily circulation would exceed 60,000 copies on some good days. This, however, was still a far cry from the newspaper's heydays of the 80s and 90s, when its circulation was averaging 60,000-plus copies a day.
At the same time, the NSTP flagship title The New Straits Times was suffering in sale and circulation that led to the decision to turn the English paper into tabloid-size.
""MM's growth, unfortunately, was seen by the NSTP management as the cause for NST's serious decline in sales," says Rocky. "A decision was made sometime in early 2006 to turn relaunch MM into a young, "college newspaper".
Rocky opposed the decision as he believed that move would kill MM. He was asked to take the VSS and left the company in March 2006. A new editor M. Zulkifli Abdul Jalil was brought in to helm the new Malay Mail' which was launched on 19 May 2006. All the MM offices in other states had been shut. Some reshuffling was carried out across MM editorial floors.
However, the rebranded young Malay Mail had not been able to charter new grounds and MM lost many of its loyal readers. Its weekend edition `The Weekend Mail' that had replaced the Sunday Mail, was suspended over a `sex survey' published in November 2006.
New Owners & Revival Attempts
In early 2008, Datuk Ibrahim Mohd Nor of Blue Inc took over MM from Media Prima, and brought back some seasoned journalists from NSTP group to revive The Paper That Cares. It tried going back to MM's old model with an emphasis on Klang Valley news but the efforts could not reverse the damages that had been done to the paper in the last two years.
Following the 2008 general elections that saw a change in the editorial leadership at NSTP, both Ibrahim & the NSTP group sold MM to a group of businessmen led by Dato' Siew Ka Wei of the Ancom Group of Companies in 2009. Malay Mail shares some common shareholders with Redberry and Ancom.
"The previous owners of MM had wanted to close Malay Mail, but an opportunity arose for me to buy it over. At that time, it was an afternoon print with less than 20,000 copies of sales. The cost of running it was much more than the revenue," says Siew, who was an avid reader of MM and thus did not wish the paper to shut.
He invited Rocky to be the Editor-In-Chief as well as sit on the board of the Malay Mail, a partnership in view to revive the newspaper once again.
"By the time I accepted Ka Wei's offer to come back to MM to revive the paper, it had shed that "college paper" stigma. But it was struggling big time, just like it had been in 2001 when I went there for my first tour of duty," says Rocky, who was working alongside his former colleagues from MM and NST in his new role.
"We tried to build back MM's image, in the hope to bring back the old spirit of MM," says Rocky, who by pushing parameters and stepping on to some (important) toes. He felt that his '"brand" of journalism had clashed with the owner's vision as a businessman. He left MM as Editor the second time round but was still on the board of the company until 2018.
Mariadass was also one of the veterans that returned to MM to help build up the paper again, especially reviving its popular sport section.
"I was the consulting sports editor. But the working environment and work culture had changed a lot since I left in 2006. Reporters treated their job like a 9-5 desk job and journalism was practised differently. Maybe I'm old school, I felt I could not fit in and left after one year," says Mariadass.
From 2008 to 2013, many seasoned editors such as Syed Nadzri, Tony Francis, Frankie D'Cruz, Yushaimi Yahaya and Terence Fernandez, had been roped in to revive MM but no one could bring it back to its former glory.
MM's last Editor-in-chief was the late Datuk Wong Sai Wan, a former executive editor of The Star and was with Redberry's special project before helming MM's editorial desk in January 2014.
By then the company had already started a MM's online portal and it was managed by a team of editors and journalists from the defunct The Malaysian Insider. From start, the print newspapers and the online portal had two separate editorial teams running until they merged as one team in January 2018.
Closing the Print MM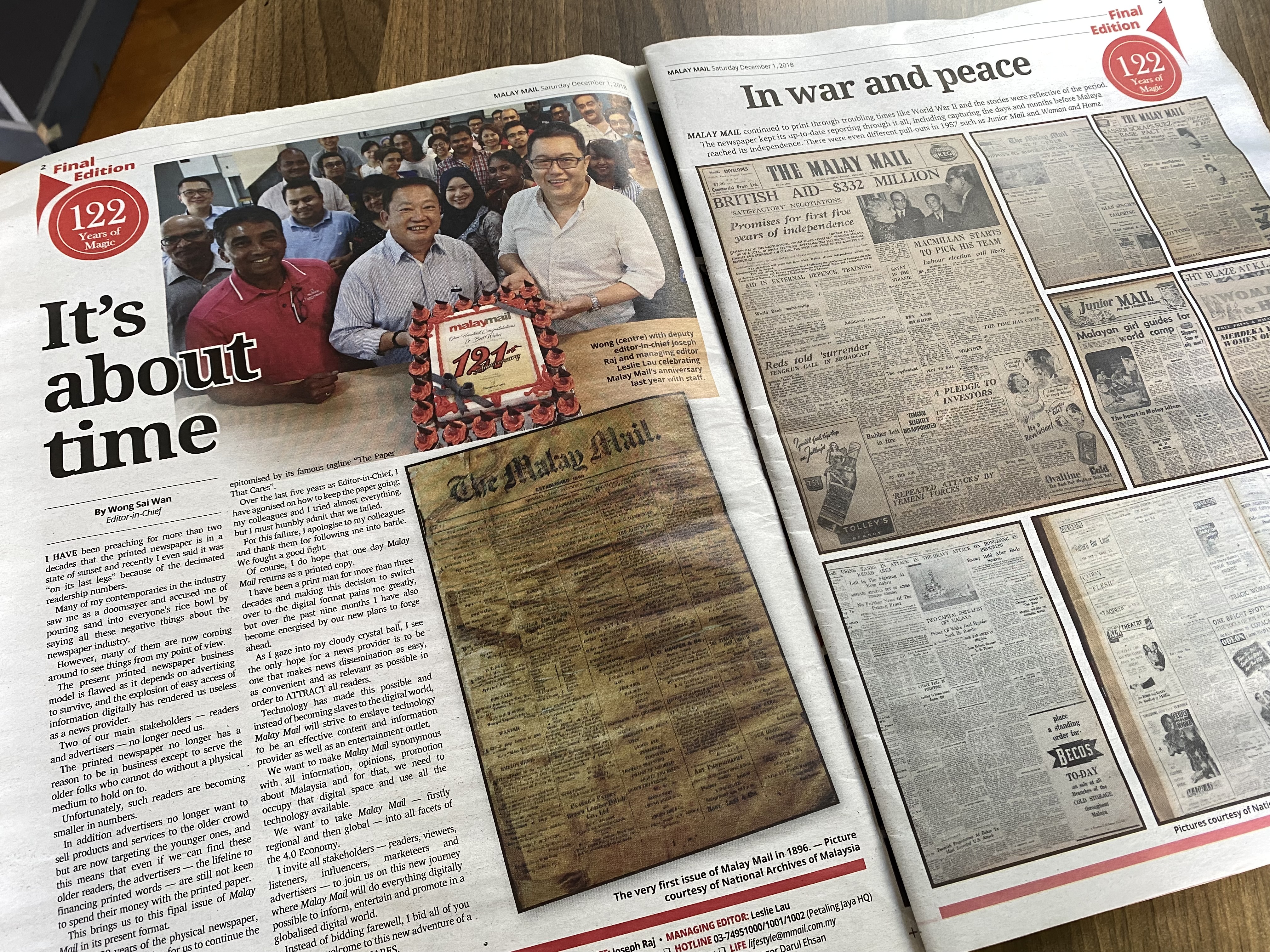 According to Siew, the decision to close MM print publications came about after many months of deliberation. It was not an easy decision but it has to prevail.
"The world has changed, the way people read news has changed. So we must also change and remain relevant. Why would you read yesterday's news today?" he asks.
With the Internet and mobile devices, people's reading habits have changed, and the pandemic has also changed it further. Newspapers have a very limited future in remaining relevant."
"The original plan was to have both versions of MM but at the end we chose the route that the Malay Mail would continue to live on. In order to ensure the Malay Mail brand continues, we have to stop print.
To MM managing editor Leslie Lau, declining readership and revenue of the print edition was ultimately the reason the decision was made.
"The print edition was not serving any purpose with the steep drop in circulation. Before closing the print newspapers, the company had taken an online first strategy and merged all operations.
"As part of the digital first strategy the entire operations was centred on the online edition, with only a small team of sub editors and graphic artists rostered daily to produce a print daily," he says. "We had wanted a digital edition that would break more stories and the print edition would give a more complete coverage of events and news.
But that was not to be. He says the trend of print newspapers was already kicking in with fewer people buying print copies and many more people gravitating towards getting their news online, particularly because of better Internet connectivity and usage of smartphones.
"Ultimately it was the readers who made the decision for us and it was thought that there was no difference for us as a news company," he says.
Sai Wan, who mooted the decision to stop print, was optimistic that the paper is still a trailblazer and a pioneer that forged new paths for others to follow.
"This is only the first in many steps that Malay Mail as a corporation will enter into in the digital business. We will not stop at news content. We will form alliances, acquire others to make us a truly digital company. And not just a digital content company, it will set the trend and become a pioneer," said Sai Wan, in the final edition of Malay Mail on November 30, 2018 (2)
He also pointed out that unlike others who began as a digital outfit first before trying to dip their toes into the print industry, the 122 years old news organisation is "breaking trends as Malaysia's first print and oldest newspaper to fully break away from a sunset sector and go fully into the digital world."
Sai Wan, had also said that the newspaper business model was flawed if it depends on advertising to survive and the explosion of easy access of information digitally has rendered us useless as a news provider. To Sai Wan, the old way of doing the newspaper business, of advertising subsidising the circulation, editorial and printing costs, is no longer viable. (3)
The shift to digital saw the company cut 55 staff from its 165-strong workforce, who were given one week to decide whether they want to leave or stay on and retrain for new roles within the organisation.
Although the sales of hardcopy newspapers have suffered and online newspapers are the way to go, Mariadass still believes that print newspapers have their market.
"You need to have a paper with good content, with journalists that have the nose for exclusive stories and present news impartially representing all voices. It will work as people want to buy something different to read.
He says perhaps a generation later everyone will be reading news online. "But as a nation that is not fully digitalised, If you're giving it up even before it happens, you are killing the print paper prematurely," he says.
Rocky reckons that the decision was inevitable. "There was little competition: online was cheaper, faster, more impactful. Print was getting costlier by the day. It didn't help that MM print numbers were so small already by then and advertising money was going to other print media."
"Looking back, I think the real killer was the decision made by NSTP bosses to change MM's direction," says Rocky. "Everything that happened after that was people trying to save the paper one way or another."
However, he adds that he still thinks the current company should have kept the print paper alive in some form.
"MM the brand remains strong. I would consider a print periodical", he says. But Siew said they had already tried and exhausted many models in the past for print, including publishing a weekend edition. It was not well received and also not financially viable.
A Strengthened Digital Malay Mail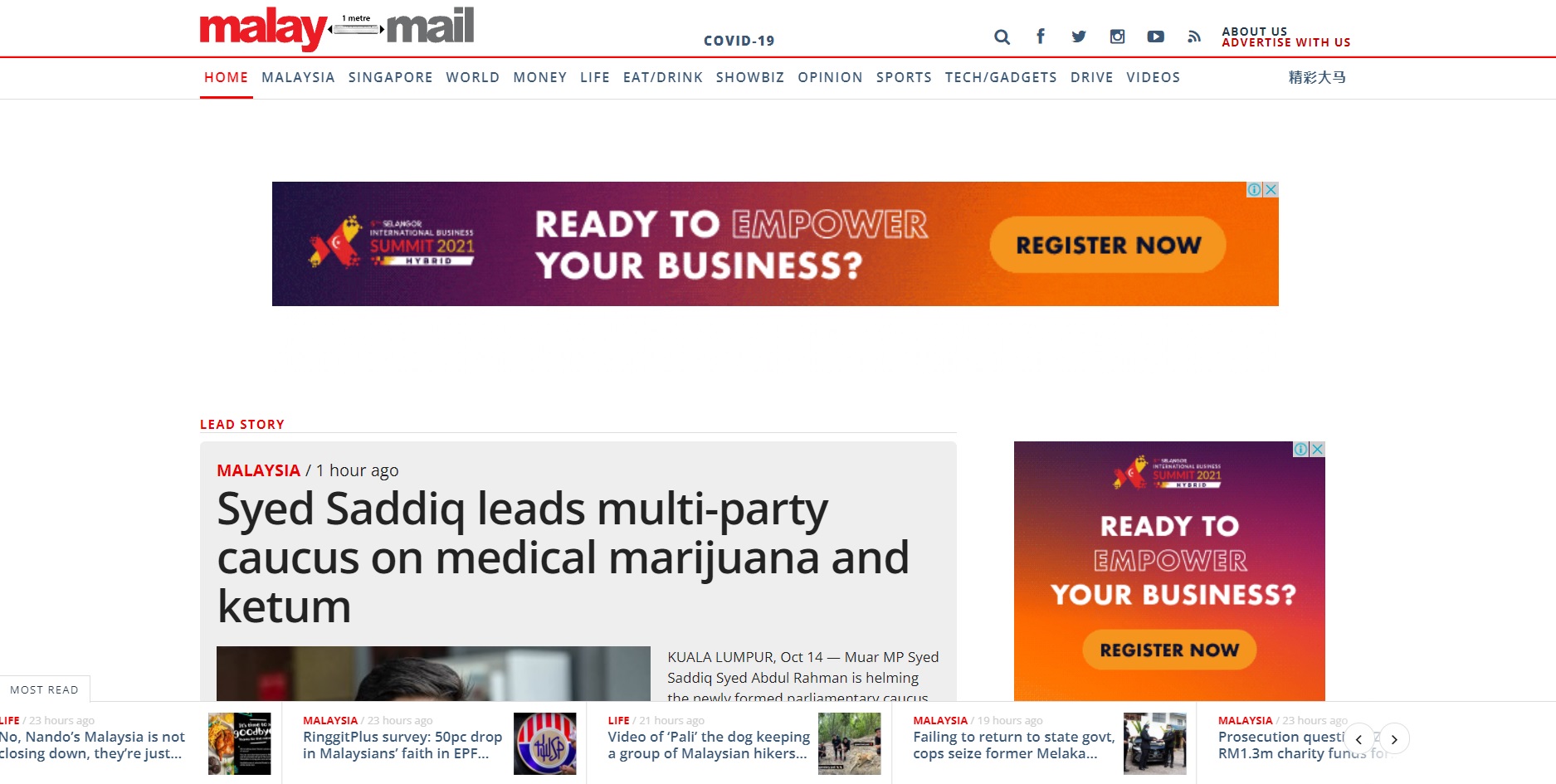 Today, Siew is even more convinced that stopping MM print was a wise and correct move. He likens it to a legendary phoenix, where the newspaper would rise from its ashes to become far stronger than it was before.
"We have a very good team that can grow the brand digitally," he says, adding that by being an online news portal, it can reach out to the masses, the aim is to have as many people reading the news.
He believes that the brand shall remain strong. It is testified by the fact that MM readership has increased many folds. The portal is getting unique visitors of close to 6 million per month from just about 2.5 million 3 years ago.
"Our page views had also increased to 25 million. We are reaching a far more number of people now compared to print. 30 percent of their readers are from overseas, with the average age group of between 35-50," says Siew, adding that MM is the 4th widest read news portal in Malaysia, behind The Star Online, FMT and Malaysiakini.
To Rocky, the online MM does not have the niche it had in the past - a paper that fought for the downtrodden, a paper that exposes injustice with investigative journalism.
"MM is competing on a very general platform with other news portals. We agree that it is not the form but the substance that matters. But for MM, the substance has changed," he says.
Siew does not deny that MM online is different from its print paper of yesteryears. "We offer choices to readers. We publish the news as they are, unadulterated news that can't be slanted. But if our readers write to us for help with authority or other matters, we will respond."
In 2010, MM print paper was the first newspaper to carry Malaysiakini news in Malay Mail, under great pressure from the government, says Siew, who believes in delivering fair news for people to make informed, intelligent decisions.
To Lau, MM in print's long history also sees it playing different roles under different editorial directions.
"In the 80s it was an afternoon paper for the Klang Valley. In the 1950s it was a national broadsheet. Today I would describe it as an independent, progressive and liberal news outlet serving the entire country and beyond," he says.
"Has it changed? It really depends on which of the old Malay Mail you are comparing it to," he says. To Lau, Malay Mail's mission has not changed, and that is, to keep its readers informed.
"I suppose our readers have decided we still matter. It does not matter what the platform is. With our sole focus online we have grown and have also developed new business partnerships with other online websites to better serve all Malaysians readers," he says.
"It is still alive and kicking, and I believe we will still be around for a while more. I am very certain there is a bright future for Malay Mail," concludes Siew.
---
The author, Chow Ee-Tan, is a freelance journalist. Feel free to have a look at the portfolio and connect with her on email or LinkedIn
References:
(2) New beginning for Malay Mail as last print edition hits the streets tomorrow - Malay Mail
(3) Goodbye Malay Mail, our oldest newspaper - Bernama
Side bar: Timeline of Malay Mail from 2001 to present
2001: Circulation of Malay Mail has been plummeting, down to between 23,000 and 25,000
October 2001: Datuk Ahiruddin Attan (Rocky) became Acting Editor of MM following the resignation of previous MM Editor Datuk Fauzi Omar.
December 2003: Datuk Seri Kalimullah Hassan (now Chairman of ECM Libra Financial Group Berhad) is appointed as NSTP Group-Editor-In-Chief, replacing the late Tan Sri Ahmad Abdullah.
May 2004: Rocky is officially appointed Executive Editor of Malay Mail and Sunday Mail.
2004: MM becomes the fastest growing papers in the NSTP group, after it was published in Penang and Johor and Ipoh as morning paper, and a late morning paper in the Klang Valley.
2005: MM has an average daily circulation of more than 60,000, which is higher than the average daily circulation in the 80s & 90s.
March 2006, Rocky leaves the newspaper after he is asked to take the Voluntary Separation Scheme (VSS)
May 2006: Following a VSS exercise across the NSTP newspapers, MM becomes a separate newspaper directly owned by Media Prima, which owns the NSTP group.
May 19, 2006: MM is revamped and relaunched as a varsity newspaper. Weekend Mail replaces Sunday Mail.
November 2006: Weekend Mail is suspended by The Home Ministry for its reports and photographs in the paper's November 4–5 issue focusing on sex and sexual issues.
March 2008: Datuk Ibrahim Mohd Nor of Blu Inc buys over MM from Media Prima. Former editors of NSTP such as Tony Francis, Frankie D'Cruz, Sheila Rahman are recruited to salvage the Malay Mail. It is a free afternoon paper.
September 2009: Datuk Siew Ka Wei of the Ancom Group of Companies and a group of businessmen buy MM from NSTP and Blu Inc. Rocky returns to helm the paper for just over a year, but remains on the Board of MM until mid 2018. Former NST Group Editor Syed Nadzri Syed Harun becomes MM's editorial advisor.
September 2011 – Malay Mail is relaunched after a break of three months, as a paid morning newspaper under its Editor-in-Chief Datuk Yushaimi Yahaya, now the Chief Operating Officer of NSTP.
June 2013: Veteran journalists Leslie Lau, Joan Lau and a team of journalists from the defunct The Malaysian Insider (TMI) take on the management and editorial team of the new Malay Mail Online portal.
January 2014: Datuk Wong Sai Wan, formerly executive editor of the Star, is appointed MM's Editor-in-chief and CEO of MM.
January 2018: The MM print and online editorial teams merge as one under Wong Sai Wan.
Dec 1, 2018: The final edition of Malay Mail paper is published, after which, MM exists solely as an online newspaper.
May 2021: Wong Sai Wan dies of a heart attack. The role of MM Editor-in-Chief is left vacant.