There is always a great wall between brands and consumers. A great wall between media organisations and their readers. With an organisation like Malaysiakini, the great wall was a necessary evil as we used it as a protective shield to unleash the truth about our country so that citizens could make a judgement call on the governing powers. Forever being in threat, the great wall safeguarded our humanness. People had the perception that Malaysiakini was run by a ruthless anti-government mafia lot!
It was always interesting to watch how people perceived Malaysiakini. At dinner parties, some would vouch that we skewed all our news to be anti-government, that we were trying to convince the people that the government was evil, that we never reported the good efforts and initiatives by the government. We had an agenda - to cause racial and religious disruption, that we stole harmony from the people and we did all this to topple the government. It was interesting that these fastidious beliefs were held largely by non-subscribers.
The experience within the organisation was diametrically opposed. My colleagues were stoics with tireless devotion to the organisation. It's a thankless job. Day and night our editors and journalists poured over cases, documents, news and tragedies without fear or favour. They would need to park their private opinions aside and present the truth as it is, which is not easy as they would need to ensure their own perception isn't marred by bias. On the operations side, our colleagues work day and night trying to make the organisation sustainable so that the people are able to make informed decisions based on the truth they discover through Malaysiakini.
We are talking here about honest, hard working people with very little to no personal benefits in doing what they do. The humanness of an organisation like Malaysiakini was not something the world was seeing and while clinical churning of news worked in the past, today, we had to find new ways to build a relationship with our readers. We had to take a risk and grow reader-intimacy. In order to do that, we had to disclose our own vulnerabilities and allow for the people to see into the hearts of those who worked in this organisation and the mission which governed their actions.
Two years ago, I decided to start Malaysiakini's first newsletter: Nifty Notes. The initial name proposed was Naughty Notes and Steven Gan our EIC with his incredible foresight asked me if we could name it something less naughty for which I am eternally grateful. I do not think we would have been able to present Naughty Notes at international conferences with a straight face and explain seriously the essence of its mission. Nifty Notes was born on February 14, 2020.
In our first issue which was just a month before the pandemic hit in full force, I wrote to our readers saying:
I think there is no gift greater in life than to have the opportunity to give yourself to something greater than yourself. When the pursuit is for the benefit of the collective and not for the self, the satisfaction comes in "a million little victories". This is something we will always share with our readers.
So we decided to start 'Nifty Notes', a weekly newsletter to connect on a deeper level with our readers. This is a space where we will share our thoughts with you on a variety of subjects and would love to hear back from you.
This is the space where we hope to get real with the people who trust us to build a functional community whose voice, one day, we hope will be a force that will shape a thousand little victorious shifts in our country - like we did together on May 9th, 2018.
Why 'Nifty Notes'? Well, while the world is stricken with worry about the coronavirus, let us remember that the sick need our love and support. Not blame or shame and sometimes, art can spur healing making a harrowing time a little bit more bearable for the patients.
Our first issue garnered many responses from our readers. Many loved the idea, a few were not interested in a connection and one even called it "junk." Since it was an experiment, many readers were patiently watching the newsletter transform rather wildly within weeks. We went from it being an intoxicating purple to a clean white version. We experimented with the information we were sharing but most distinct was the inside stories of writers in Malaysiakini sharing their personal views and experiences with our readers.
I found that discipline was key. We had to have a set of rules. Our readers were at the heart of all our decisions. I told the team, rain or shine, public holiday or a death will not stop this newsletter from going out every Friday at 11:11am. Surprisingly, with a small team, and the support of the whole organisation we have sent out 88 issues this week without fail since its inception. My greatest fortune is having my colleague Ayesha love Nifty Notes as much as me. After the newsletter's germination period and beginning to take root, Ayesha has taken over its coordination and has been utterly devoted to the newsletter.
We shared many experiences with our readers from our hobbies, the things that trouble our souls, the reason we fight so hard for independent journalism, to our insecurities. We share our ailments, the battles we have fought in private, the loss of one of our colleagues, the pains of being 24 and sometimes ponderings we have as very real people. We, as an organisation, exposed ourselves and our inner truths with our readers and incrementally we began to transform the perception of being cold-hearted trouble makers to soft-hearted soldiers of the nation. I think we managed to get the message across to the people who mattered that we are sincere in our mission. We are sincere about our love for this country.
In one issue, our General Manager K Manohar wrote about Vision 2020, and this was a story about his battle with his eyesight. Steven Gan wrote a piece titled "We are all doomed unless…" and he elaborates how the Malaysiakini is about leaving a better Malaysia for our children. Premesh Chandran appealed to our readers not to allow for this to be an unhappy Merdeka and here, he asked the poignant question of how do we use the lessons in history to build a better nation reminding us that it's 36 years before we reach Merdeka 100. The younger generation like Eshwaren Manoharen shared about his experience starting Malaysiakini's Youthphoria podcast and how it took a lot of courage. Shavein Kumar wrote a confession and it was remarkable how he gave us a view about the battles young people fight. These are just a few of the many little story treasures we have collected for almost two years.
The greatest challenge of building a product that has contrasting nuances from the mother product for me has been the need to withstand internal doubts while getting the product to take root without losing hope. Reminds me of the poem IF by Rudyard Kipling which beautifully encapsulates the experience "If you can trust yourself when all men doubt you, But make allowance for their doubting too." Sometimes, we have to have faith that something will work, despite not having the data or any inch of evidence that it will. Some products take time to stick as readers take time to build the habit of receiving their Nifty Notes every Friday. Today we have over 44,500 Nifty Notes subscribers.
We hear back from our readers on a weekly basis. Someone or another writes a comment, makes a suggestion, or lets us know how they feel and with that exchange we too feel close to our readers - helping us go the extra mile for them on every count which inherently deepens our bond to them. Intimacy takes courage. It takes vulnerability. It takes confronting the pain of realness with the people you share your stories with and suddenly - Malaysiakini isn't just a political portal telling truth to power. We tell our truth to our readers too. With this we have built a great wall of trust.
And that has made all the difference.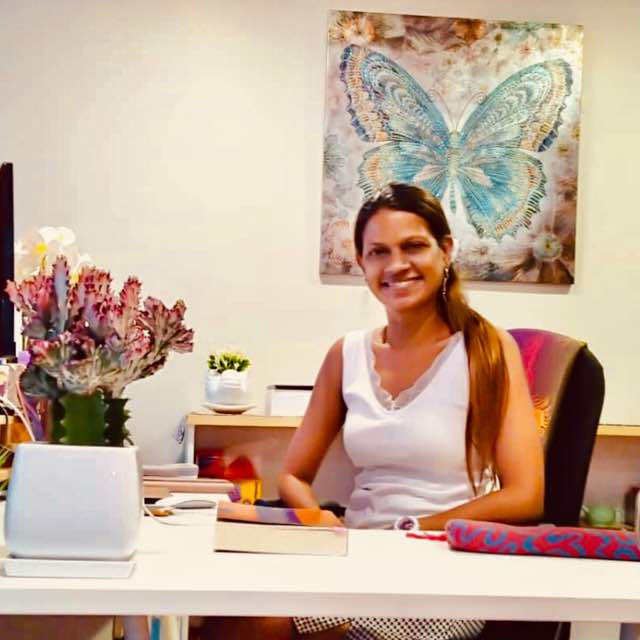 Lynn D'Cruz
Chief Membership Officer
Malaysiakini